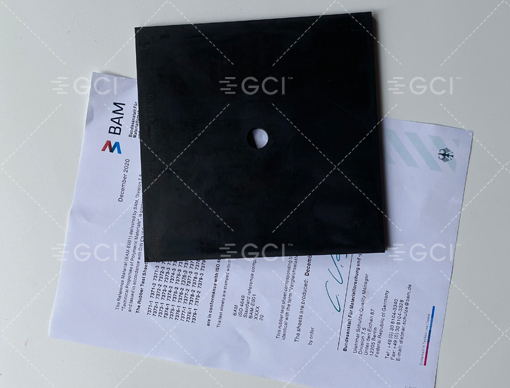 Imported from BAM, Germany. This standard rubber is used in conjunction with DIN abrasion resistance test to test whether the performance of the sandpaper of DIN abrasion resistance tester is normal in the abrasion resistance test of shoe materials (rubber). ⏹ In Adidas ge-27 DIN friction Used as specified in the standard. ⏹ The Reference Material(BAM-E001) delivered by BAM. Working Group "Elastomers and Reference Materials" (VI.31), is prepared for test purposes and tested in accordance with DIN EN ISO/IEC 17025:2005

The Rubber Test Sheets ID No. .... are in conformance with ISO 4649,Annex B,clause B.2.

The test sheets are stamped with the following marks:

BAM (producer)
ISO 4649 (standerd)
Standard reference compound No.1 (type of elastomer)
BAM-E001 (product number)
XXXXX (identification number)
11 (year of production)

This rubber test sheet corresponding to ISO 4649,Annex B,clause B.2. is identical with the term "Vergleichselastomer" mentioned in DIN 53516.